Pressure Drop is a Melbourne reggae-dub band, which was popular around the live music venues in the late 1970s and early 1980s. The band was one of the early pioneers of rock steady, reggae and dub in Australia starting life in Melbourne in 1978. The band filled houses across the city and down the surf coast and offered a new sound to the dance and soul crowd in Melbourne. By the early 1980s the band was experimenting with live dub using on-stage echo chambers and mixing techniques that were new to the Melbourne scene. Those sounds still sound contemporary today.
The core of the original band continues to play and you can expect an exciting mix of dance, rock-steady, dub and riff-ridden reggae that spans the decades.
---
Latest News – May 2015
Pressure Drop will play a series of Sunday afternoon gigs at the @Bar of Bengal Room, Kindred Studios in Yarraville, Melbourne in the coming months.
The gigs will run from 15:00 to 19:00 on the following dates:
June 7, 2015
June 21, 2015
July 12, 2015
See gig guide and news update – Sunday afternoon reggae in Melbourne – April 2015 – for more information.
Next Gig
Pressure Drop will be playing next at Simba'r Cafe, June 6, 2015. See gig guide for details.
Sri Lanka Tour – January 2015
For photos from – Pressure Drop's Sri Lanka Tour – January 2015.
---
New CD sample
The following video is from the first pre-final mix down to give you an early taste of the new CD that is in the works (release date to be announced).
---
Here are some Live Tracks from Shows in March 2013 to let you know what the band sounds like:
---
Video – Pressure Drop – Remember Chile, September 11, 1973
---
Video – Pressure Drop – Mother Earth
Pressure Drop – Live at the Caravan Music Club, Melbourne, March 24, 2012
More details about the band's comeback gig are available from the Press Release.
CD – Pressure Drop aLIVE 2011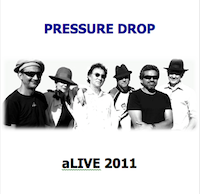 The Pressure Drop CD from 2011 is available for purchase from our on-line shop. You can purchase the entire CD or download individual mp3 tracks.
Please join our Mailing List to stay in touch with the news or watch our blog.
For bookings contact Bill 0419 422 410 or Peter 0419 115 349 or Kelvin 0411 704 912